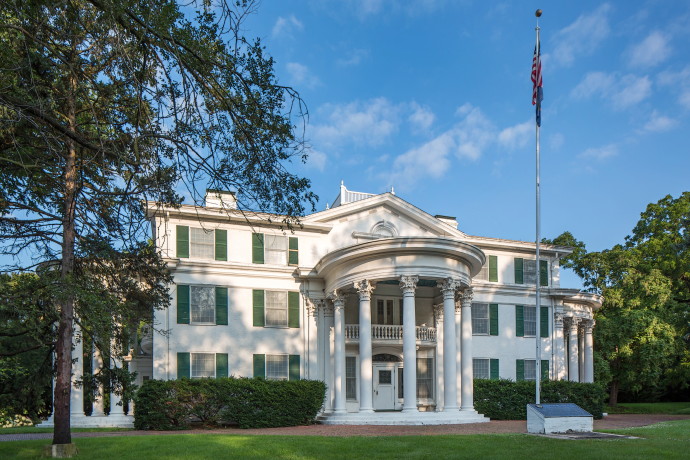 ---

A rich history
This beautiful estate in Nebraska City was the original home of J. Sterling Morton, who thought Arbor Day — the tree planter's holiday — in 1872. From its beginning in 1855 as a four-room frame house, the magnificent mansion grew to 52 rooms through several renovations. Authentic furnishings and historical artifacts grace the rooms, and displays capture the life and times of this exceptional man.
Arbor Lodge State Historical Park and Arboretum encompass more than 65 acres of hilly, wooded land at the edge of Nebraska City, just a few miles west of the Missouri River. The grounds and the Morton mansion were donated to the State of Nebraska in 1923 by Joy; Morton's oldest son.
The park was officially designated as an arboretum on Arbor Day, April 22, 1976, by the then-newly chartered Nebraska State Arboretum. Arbor Lodge has 10 trees that the Statewide Arboretum recognizes as state champions because of their size and age. The collection of trees and shrubs consists of more than 260 species, including many native plants and some that are uncommon in the region. Some of the oldest and finest specimens in the arboretum were planted by Morton and the Morton family in the late 19th and early 20th centuries. Many specimens are labeled with both their common and scientific names. Interpretive signs along the Tree Trail enhance visitors' experiences.
A bright future
Today, Arbor Lodge State Historical Park is owned by Nebraska Game and Parks Commission, but is managed by the Arbor Day Foundation.
The mansion is open weekends during the winter months for self-guided tours and offers several special events throughout the year for visitors. It's also available for private events; please call 402-873-8705 for additional information on hosting an event (meeting, wedding, etc…) at Arbor Lodge.
ALL ATTRACTIONS CLOSED on the following holidays: Thanksgiving Day; Christmas Eve & Day; New Year's Even & Day.
Grounds are open year-round; park entry permit is NOT required. Mansion admission fee applies; $9 adults; $7 youth (3-12).
---

Hours
Tuesday
Wednesday
Thursday
Friday
Saturday
Sunday
11:00 AM - 5:00 PM
11:00 AM - 5:00 PM
11:00 AM - 5:00 PM
11:00 AM - 5:00 PM
11:00 AM - 5:00 PM
11:00 AM - 5:00 PM
More Info
PARK & ARBORETUM ADMISSION:
Free. No permit required for entry.

Park grounds open daily year-round.

MANSION ADMISSIONS:
Adults: $9.00
Children ages 3-12: $7.00
Children ages 2 & Younger: Free

Arbor Lodge State Historical Park
2600 Arbor Avenue
Nebraska City, NE, 68410
(402) 873-7222